Each donation to Education First supports children, families, communities and societies across around the world and at home in Canada opportunities to learn.
Put Education First
Education is at the heart of development. When delivered well it has the potential to uplift individuals, families, communities, and societies out of poverty.
Penny Appeal Canada's Education First programming promises a secure future for thousands of individuals around the world by helping students reach their full potential inside and outside the classroom through a learning first approach. Through the generous support of our donors, we empower learners by providing school supplies for back to school, opportunities for after school based learning programs, skills based learning for older learners, and a variety of holistic programs which meet individuals where they are.
You can help support communities around the world by putting Education First!
Help us build a brighter future
Vocational Skills Training
Girls are twice as likely to drop out of school due to a crisis like COVID-19, and less likely to return once it has passed. The longer a girl is out of school, the less likely she is to ever return. Your support could be the difference for a girl between staying in school and dropping out.



Girls Night
Every Monday, MLSE Foundation Launchpad with support of Penny Appeal Canada hosts programming exclusively for girls Toronto, Canada. This programming aims to meet girls where they are and provide them to engage in a variety of interests in safe space. This sports based programming focuses on life skill building, self advocacy, mentorship, employment and much more based on the needs of the girls who are participating in the program and the feedback they provide. Every 9 weeks the program offered changes to meet the needs of the participating girls and focuses on a different area of life skill building.
Girls Education
Learning takes place in the classroom and outside. In the Gaur Municipality and Ishnath Municipality in Rautahat district of Province No. 2 in Nepal, two schools will be renovated to create a safe environment for girls to obtain their education. The schools will be equipped with classroom renovations, gender appropriate washrooms, and fencing support to ensure the schools are safe environments where girls want to learn. In order to further support the female students, mothers from zakat eligible families will be provided with vocational skills training and start up materials to begin small businesses to support their livelihood.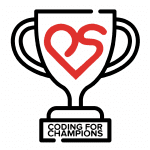 Coding For Champions
In partnership with The PS43 Foundation Canada, Penny Appeal Canada is providing students in Toronto with electronic access to further their fascination and learn computer technology skills to address the digital divide in Toronto!
Your donation will provide a student in with access to essential technology and education:
Annual Program
Back to School
Penny Appeal Canada's staple back to school program provides students from low income households across Canada with brand new backpacks. Each student is invited to select which backpack they would like for the new year through an empowering back to school shopping experience.