From Our Land to Your Hand
Penny Appeal's best loved dates are here! Our Medjoul dates are sweet, juicy and delicious, grown with love by hard-working Palestinian farmers in the pastures of Jericho along the West Bank of Palestine.
Whether you're ordering a tin for yourself or getting them as a gift for a loved one, these delicious little dates truly are the gift that keeps giving as 100% of the profits will be going towards our Feed Our World program.
Our date tins won't be around for long as stock is limited, so be sure to purchase yours before it's too late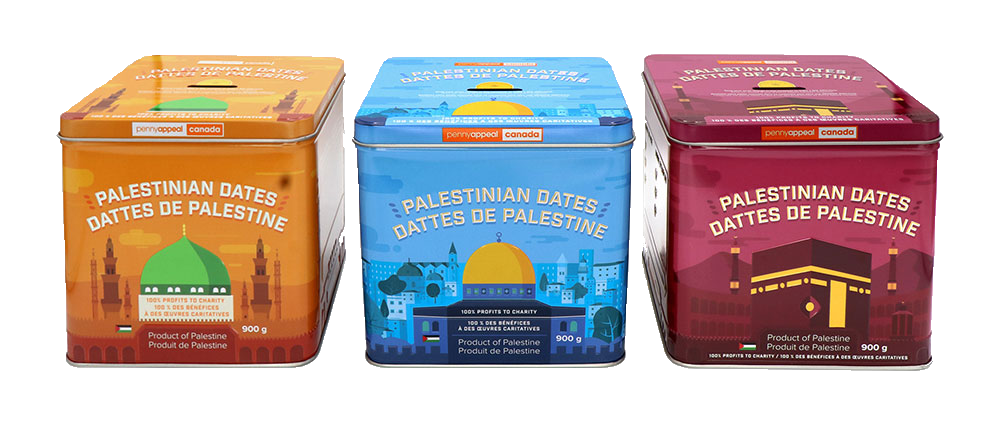 Holy Mosque Tin Collection
Our Tin Collection is inspired by the three holiest Mosques of the Islamic world: The Kabah, Masjid Al-Nabwi and Al-Aqsa.
Dates for you, hope for Palestine
100% Palestinian – Grown and picked with love by Palestinian Farmers
Our Palestinian dates are cultivated in the ancient lands of Jericho in the West Bank of Palestine. The dates are handpicked on a Palestinian owned farm by Palestinian farmers to ensure you receive the highest and freshest quality dates.
Each tin we produce helps to support Palestinian farmers.

Help transform lives while enjoying a nutritious tread
Each tin purchased will contribute to our charitable Feed Our World programs to support the self-sufficienty of struggling Palestinian communities and end the cycle of poverty.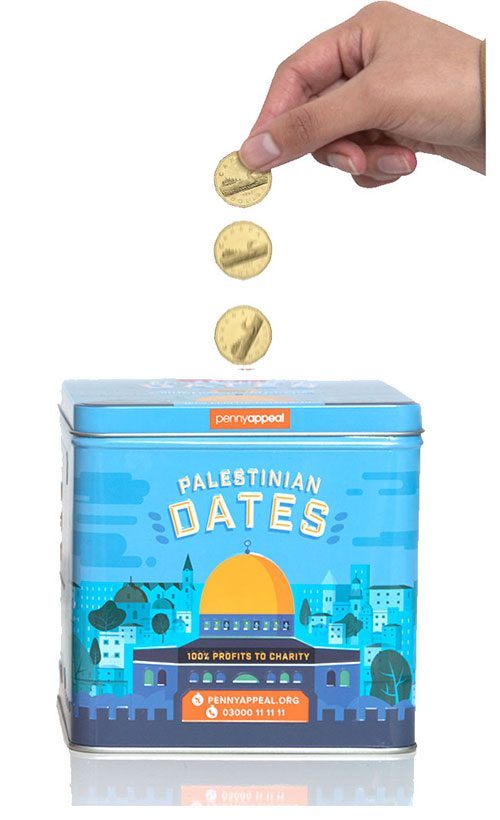 More than just a tin – it's your Sadaqah bank!
Use the tin to collect your small change and make a BIG DIFFERENCE!
Use your tin to collect all your change this Ramadan to make a BIG difference. Once full, donate it to your favourite Penny Appeal Canada program!
Medjoul Dates
Medjoul dates are often called the 'King of Dates' because of their large size and plump texture.
The Prophet (S) said, "Indeed in dates there is a cure" (Muslim) and these Medjoul dates are chock-full of health benefits. Dates are packed with all kinds of vitamins. High in protein and fibre, these superfoods are the perfect treat for yourself or a loved one.